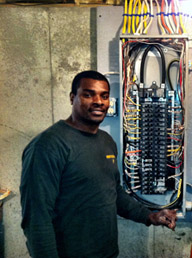 Meet Leon Knight- Master
Electrician in Massachusetts
Leon Knight, Master Electrician and Owner/Operator of Knight Electric Inc., started his career in the construction trade in Chatham, MA as a carpenter/framer and then moved on to electrical apprentice, taking his electrical code and theory classes at Boudrea Electrical School in Dennis, MA.
After two years of thorough, first-hand experience in residential wiring with a small Chatham company, Leon moved to Western MA where he became well-versed in both the commercial and industrial side of the electrical field. While working, he continued his education in electrical code and theory at Springfield Technical Community College.
At the same time, his wife Autumn finished her nursing degree, and after three years, in Western MA, and the birth of their daughter, the couple decided it was time to return to their family and friends on the Cape.
In 2005, Leon received his electrical journeyman's license and went into business for himself. In 2007, he pursued his master electrician license and has been successfully growing his company ever since.
Knight Electric Inc. prides itself on being reliable, working hard, and consistently developing its clientele through referrals from the company's broad base of contractors and homeowners. His satisfied customers know that Leon is committed to providing quality electrical services at a fair price, with safety and customer satisfaction being his primary goal.
Knight Electric is an Authorized Dealer for two leading generator manufacturers: Generac Power Systems and Kohler Power Systems. We will size a standby generator to fit your home or business. An automatic standby generator can be designed to run the entire structure, or just a few selective circuits to fit your lifestyle.
We at Knight Electric make sales, installation and services of Generac and Kohler automatic standby generators our #1 priority. With our factory trained service technicians we give our customers 100% satisfaction at an affordable cost. Our customers are sure to have SOME PEACE OF MIND knowing they are in good hands and that their investment is well protected.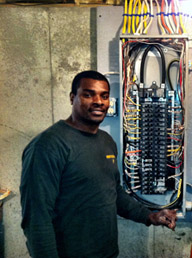 Why install an automatic home standby generator?
Power outages have become more frequent, with causes ranging from severe weather to an overtaxed power grid. With homes incorporating more electrical priorities, loss of power is not just a hassle easily solved with a flashlight and blanket. In addition to the loss of light, a power outage during winter could result in the loss of heat and burst pipes. A power outage in warm weather climates could result in the loss of air conditioning and mold damage. In any climate, food left in refrigerators and freezers without power is likely to spoil.
These are significant issues with expensive consequences. Luckily, they can be avoided. Installing an automatic standby generator provides safety and security during power outages.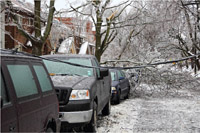 Automatic home standby power...the new upgrade
Building a new home or renovating your existing one is an exciting and demanding venture. Decisions need to be made and budgets tracked. One thing is clear - whether building new or doing a major remodel, now is the opportune time to install an automatic standby generator.
The decision to protect your home against power outages is simple. Choose Generac, the most cost-effective and easy-to-install automatic home standby generator on the market.